Best Tent Suppliers in Dubai
---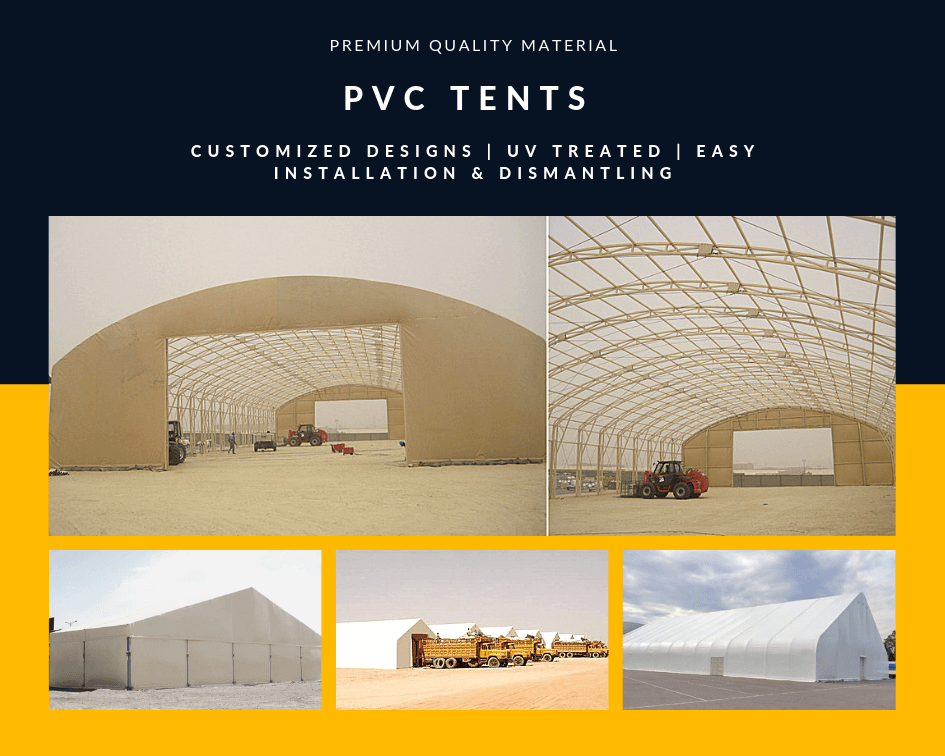 Best Tent Suppliers in Dubai
With our commitment to offer premium quality at the best prices we are en-thrilled to see our client's satisfaction with our product and services. Being one of the best tent suppliers in Dubai, we aim to offer the finest quality tents. With our extensive business operations in the tent manufacturing industry across UAE, we attempt to pass on the benefits to our clients. Before the tent is dispatched for delivery, our supervisors keenly inspect every piece and element. All our tent fabric goes through an extensive testing procedure where the team examines every fabric roll for different properties such as water resistance, abrasion resistance, color quality, and weight.
Tent Manufacturers and Suppliers in UAE, Dubai, Abu Dhabi and Sharjah
---
In scorching heat of UAE, the color fades away quickly due to sunlight exposure. For that reason, it is ensured that the fabric rolls have the strength and color resistance to sunlight exposure for prolonged duration. We have a stringent quality criteria to follow, so as to ensure every piece and elements such as webbing, zippers, fasteners, and poles have passed the quality standards. At Shelter Tent FZE, we strive to offer you the best structures and tent solutions for every purposes across UAE. We cpm in terms of design, solutions and functionality - not just in terms of structures. Shelter Tent FZE has built a reputation as one of the reliable tent supplier in Dubai by offering a unique standard of service through the integration of development, production and assembly departments. Share your project with us and let us make the impossible possible.
---
See more
---
Tent Companies in UAE
We These tents are quick to install and dissemble. Our PVC or knit fabric tents comes with the following amenities that can be provided upon client's request.
Air conditions
Carpets
Led lights
Chairs
Tables
PVC Tents Manufacturers in Dubai
PVC Tents Manufacturers in Dubai
---
Shelter Tent FZE is a leading tent suppliers in Dubai, Abu Dhabi, Sharjah and across UAE. We manufature high-quality PVC and knit fabric tent structures and specializes in tents manufacturing, supplying and tent rental solutions. We also offer tents for sale to companies looking to buy tents for different purposes. We also do supply and installation of tents in Dubai, Abu Dhabi, Sharjah, Ajman, RAK, Umm Al Quwain, Fujairah. We have the capacity to manufacture medium and large tent shade structures for permanent and also temporary basis to meet your short and long term goals.
---
See more
---
We are known as one of the best PVC tents manufacturers and suppliers in Dubai and Abu Dhabi. Our market competitive prices also gives you the the best price for tents for sale. Our area of expertise spans accorss different type of tent shade structures in Dubai. We manufacture, supply and install all kind of tents at reasonable prices. With our commitment to offer you the high-quality tents products and solutions, we have now become the market leader as one of the leading tents manufacturer and supplier across UAE. Our tents are used for various purposes. Some of the tents that we manufacturers includes,
Labor Tents

Warehouse Tents

Storage Tents

Majlis Tents

Arabic Tents

Medical Tents

Ramadan Tents

Canopy Tents

Tent Shade Structures