Book Best Price Tent Rental in Dubai
---
Rent a tent in Dubai, Abu Dhabi, Sharjah and across UAE at the most affordable rates.
Over the past years, there is a growing trend for tent rentals in Dubai, Abu Dhabi and Sharjah. Rental tents in Dubai are usually booked for corporate events, labor rest areas, storage or warehouses, Ramadan tents, Arabian tents, Majlis Tents, Funereal tents etc. We can provide all kind of customized tent rentals that can be used to cater all kind of events and large group of people. The tent size can be any where starting from 5 meter to 30 meter in width. However, the length of the rental tent can be decided as per the customer requirement as Shelter Tent FZE can provide any length that the customer demands.
Our tent rentals are made up of PVC fabric. PVC fabric is well known for its durability and reliability. It is air tight fabric that offers great cooling capacity when Air conditions are installed. It control the temperature inside the tent and resist heat during peak season and high temperatures.
These tent rentals are easy to install and easy to remove. Every Tent rental in Dubai, Abu Dhabi and Sharjah comes with following amenities that can be provided upon client's request.
Air conditions
Carpets
Led lights
Chairs
Tables
---
See more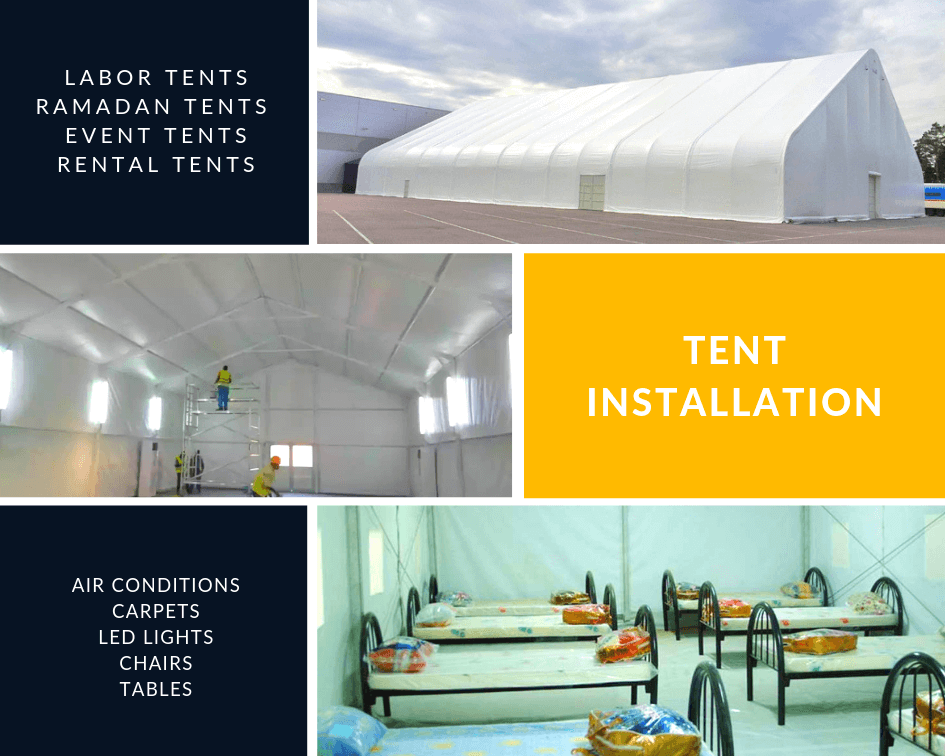 We Offer Labor Rental Tents in Abu Dhabi and across UAE
Now you can also book Labor rental tents in Abu Dhabi, Dubai, Sharjah and across UAE
During the peak summer season, many companies starts looking for labor rental tent in UAE for labor tents. To comply with government regulations it is mandatory to give a 3 hours break to the labor during the peak hours. Our labor rental tents are the best solution for creating a relaxing space for the labor during the extreme weather conditions. Our rental tents are also in demand to fulfill storage and warehouse needs. These rental tents are booked by other manufacturers, importers, exporters, wholesalers and distributors to keep inventory, stock or raw material.
---
Looking for Ramadan rental tent in UAE at affordable rates?
Now you can also book Ramadan rental tents in Abu Dhabi, Dubai, Sharjah and across UAE at market competitive prices.
If you are looking for affordable Ramadan rental tents then you are at the right place. We have affordable rental tents that you can book from us at market competitive prices. We have tents with unique designs that can be custom made for all kinds of Ramadan rental tents. We offer a complete bespoke solution for tent rentals that includes aluminium and steel structure, tent fabric, AC installation, lights, carpets, electric generators and electric disk board. Our innovative steel structure and Ramadan rental tents are easily installed and can be removed easily after the contract is finished. Shelter Tent FZE ensures that every project is delivered with utmost dedication that represents our commitment towards excellence. We have worked on a broad range of projects sizes, scope and complexity. That's why we offer the lowest rental tent charges with superior tent quality.
---
See more
For more information, write to us at info@sheltertent.ae or call us now at +971 56 7771673.
---